KKND 2: Krossfire

The KKND 2: Krossfire section should provide for all your KKND2 needs with several very cool custom missions developed by Nahoo, quizzes, strategies, tips, screens wide selection of downloads and much more. In 1999 the predecessor to this page was awarded as one of the best fan sites for the game.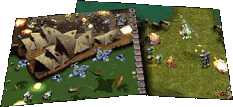 In addition to other downloads have built a cool 256 colour icon library from images, screenshots and designs from KKND 2: Krossfire. Please download them and use them as the shortcut icons and files for your computer. In the KKND 2 downloads section you can also find links to all the demos over the KKND series, missions, patches and more. Other gaming downloads can be obtained on the more general Download Bay.

In addition to this section, I have run a dedicated website to KKND 2 Krossfire for quite a few years: Planet KKND 2. If you have anything to contribute to the KKND 2 world, do so here where KKNDMaster, BennyBarrageCraft and Nahoo once maintained its pages night and day; now it is managed by Hallfiry. You can obtain your own copy of KKND 2: Krossfire, you can purchase a US version from the Buy page on the website there.
If you want Nahoo to help you setup your own KKND 2 fan-site, please get in touch.