KKND 2: Krossfire Downloads
Planet KKND 2 Download Links
If you land here from Planet KKND 2 and find a download that isn't working, please get in touch.
All KKND 2: Krossfire game files can be downloaded from our high-speed server and from Planet KKND 2. These downloads are only a small amount of the games downloads on offer at Nahoo. Some of the files here require a username and password to download; this information can be obtained by small donation going towards the running costs of the server.
Name
Description
Size
Downloads
KKND 2: Krossfire Demo
Play the complete demo for KKND 2 Krossfire
14.4MB
42,816
KKND 2: Krossfire US English Patch
Full version of the second great strategy game with 13 new classic civilizations
416KB
9,433
KKND 2: Krossfire Additional Missions
All 11 single player missions from Melbourne House
6.1MB
7,682
KKND 2: Krossfire Multiplayer Maps
The 4 official multiplayer maps release by Melbourne House
2.1MB
6,034
KKND 2: Krossfire US German Patch
Sorts out some problems with multiplayer gaming, back-up key files first.
868KB
6,001
KKND 2: Krossfire Mission Editor
Bundled mission editor accompanying the game, loads in Windows 98, ME
1.5MB
5,386
Treble Trouble
Three KKND 2 armies meet with disastrous consequences
688KB
4,937
Water World
Command KKND 2 forces to recover your base or face a watery grave
764KB
4,892
Camp Inspection
KKND 2 mission with more than meets the eye
720KB
4,359
Oil Hunt
Search for oil through enemy lines in this KKND2 mission
700KB
3,593
KKND 2 Theme

New

Sounds and images from KKND2, with pointers, alert sounds, desktop icons
1.4MB
3,310
Base Mesa

New

Mission from KKNDMaster - guide a fellow commander to a landing pad.
551KB
2,758
KKND 2 Raw Urban Tileset

New

Complete set of images that make up the cities in KKND 2
9.2MB
2,586
KKND 2 English Patch
Sort out some problems with multiplayer gaming, back-up key files first
416KB
2,547
KKND 2 Official Multiplayer Map 01

New

A very large and empty desert level, very loosely based on Multi-2. Sometimes all you want is the final Frontier.
332KB
2,540
KKND 2 Official Multiplayer Map 04

New

Based on a closed and cluttered city map (multi-10), this is a much more open level. All starting positions have more oil and accessibility.
830KB
2,414
KKND 2 Official Multiplayer Map 03

New

Based on Glenn's favourite team level (Multi-6), try playing 4 a side
517KB
2,314
KKND 2 Official Multiplayer Map 02

New

A very large and open green level. Based on the most defensive level in the game (Multi-7), but without the defences.
463KB
2,290
KKND 2 The Gemini XII

New

Map 01: While making the original 51 missions the UFO just didn't fit in, it was way too powerful.
236KB
1,861
KKND 2 CD Designs
High quality CD designs from the UK KKND 2 Krossfire edition
5.8MB
1,851
KKND 2 Perfect General

New

Map 13: This level is designed to be too hard
456KB
1,765
Promised Land, The

New

KKNDMaster presents another custom mission with a UFO
412KB
1,755
KKND 2 Icon Pack 1
See what KKND 2 Krossfire has to offer from this icon pack
32KB
1,688
KKND 2 Over The River

New

Map 02: It is a fairly simple mission: save base, rebuild and smite the bad guys.
469KB
1,659
KKND 2 Renegade Robots

New

Map 04: Some high tech robots have got scrambled and gone rogue.
523KB
1,608
KKND 2 Airborne Robotic Assault Squad

New

Map 12: The Sereies 9 have done some long distance forecasting and found that the mutants in this island chain will become very troublesome in the near future
783KB
1,563
KKND 2 Mountain Assault

New

Scramble the mountain passes in KKNDMaster's custom mission for KKND 2: Krossfire
165KB
1,546
KKND 2 Getting Back and Getting Even

New

Map 06: The Survivors base in this area has been overrun and captured by the Evolved.
0.9MB
1,499
KKND 2 The Nest

New

Map 10: The Series 9 has found a wild queen scorpion and intend to kill her. The evolved have raced a brood of scorpions to the area.
563KB
1,395
KKND 2 Army Group South

New

Map 03: Control a huge Evolved army from the start. All you have to do is destroy the robots armoury. Very fast and lots of explosions.
596KB
1,336
Grassland, The

New

KKNDMaster presents the grass based custom mission
97KB
1,318
KKND 2 Ring of Fire

New

Map 05: This is an assault on a heavily fortified robotic research facility.
727KB
1,256
KKND 2 Flaming Rings!

New

Map 51: This is the hard and nasty version of ring of fire. Precision and an active save game are likely to be needed.
720KB
1,255
Resource Error

New

Battle against the elements in another custom mission offering from KKNDMaster
283KB
1,241
KKND 2 Pacman

New

Map 08: It is not perfect, but it is fun for about ten minutes though. Nail the guy on the extreme left last.
94KB
1,205
KKND 2 Korean Patch

New

Fixes problems with multiplayer with full Direct Play lobby support for the Korean version only (Note: please remember to back-up key files first)
1.2MB
1,163
KKND 2: Krossfire Mini Map Explorer
View and export the minimap from most missions in KKND 2
200KB
989
KKND 2 Thai Patch

New

Fixes problems with multiplayer with full Direct Play lobby support for the Thai version only (Note: please remember to back-up key files first)
826KB
507
The new Download Bay – Please send in your feedback about this new version of the Download Bay. There will be improvements made based on your comments, so please share your views.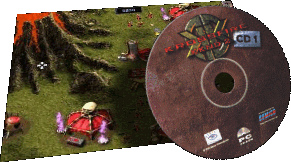 For the complete picture on full version and demo games downloads, updates, missions and patches, please go the Downloads Bay. If you want to suggest new downloads for KKND 2: Krossfire, please contact Nahoo on the Letter page.