KKND 2: Krossfire Missions
I have made a several custom missions using the highly buggy KME provided with the game. Treble Trouble has all three armies battling away for supremacy. You have a few Survivor units, from which you must set up a base and then destroy all traces of the Evolved and Series 9. With the Series 9, you lead a Camp Inspection through enemy territories. I've added a more recent mission with Series 9 called: Water World. Finally, the Evolved mission: Oil Hunt takes you directly through enemy territory in order to setup a base due south. The first two missions have been remade due to invincible enemy units!
Treble Trouble
Trash the Evolved and Series 9 camps and destroy their armies. Their armies are strong, but nothing can stop you now!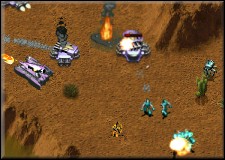 Loadsa fighting, with severe enemy forces to reckon with!
Realistic Scenery, containing stagnant pools and old ruins
Tried and tested to keep you busy throughout the mission
Evolved (orange) and Series 9 (turquoise) as your enemies
Tactical points and cliffs, strike your enemy's power supplies
Enough room to build a massive base
Camp Inspection
Attempts, the enemies, have been made to weaken and wipe clean a small, but strong Series 9 camp. Punish their insolence destroying their camps.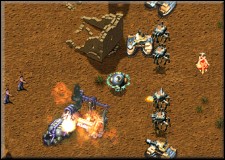 Opponents include two Survivor and one Evolved army.
Secondary AI base to help you krush the enemy
Strategic points throughout map. Areas where both you and the enemy are vulnerable.
Alternative attack options and enemy aerial offensive
Oil points to fight over and burn
Continual pressure from enemy camps throughout the game
Water World
Move your forces across a hostile area to recover oil and resources behind enemy lines or face a watery grave.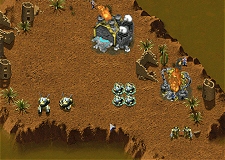 Islands covered in Survivors and Evolved units and AA towers
Early scurmishes and later, major air and water based offensives
Limited resources and space so careful planning essential
Disused base to repair and expand upon behind enemy territory
Larger building zone to build up a reasonable offensive attack
Skill required throughout to avoid being overwhelmed by a ruthless enemy.
Oil Hunt
Guide your precious Mobile Derrick through enemy territory and deploy on a large oil reserve in an abandoned base.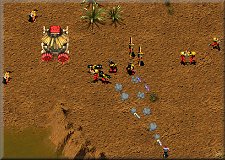 Survivor flesh to disassemble throughout your journey
Enemy units will chase you along your trail if you are not Meticulous.
Skill needed to plot a safe (or less dangerous) route, through ground and air fire.
Areas where certain units can and others cannot, with full usage of infantry and machines.
Reinforcements to keep you going through the initially demanding phase of the mission
Adequate supply of oil to grow an army nearly large enough to match the Survivors.
Name
Description
Size
Downloads
Aztec Fire
An Aztec themed mission from BennyBarrageCraft
746KB
1,466
Base Mesa
Mission from KKNDMaster - guide a fellow commander to a landing pad.
551KB
2,785
Camp Inspection
KKND 2 mission with more than meets the eye
720KB
4,393
Custom Missions Pack I

New

The start of the custom missions with contributions from the studio, Alorka, Kragi Mizu, Nahoo among others
72.4MB
2
Grassland, The
KKNDMaster presents the grass based custom mission
97KB
1,336
Kill All Mutants
These guys don't like mutants (Evolved) at all
84KB
1,099
KKND 2 Airborne Robotic Assault Squad
Map 12: The Series 9 have done some long distance forecasting and found that the mutants in this island chain will become very troublesome in the near future
783KB
1,588
KKND 2 Army Group South
Map 03: Control a huge Evolved army from the start. All you have to do is destroy the robots armoury. Very fast and lots of explosions.
596KB
1,357
KKND 2 Flaming Rings!
Map 51: This is the hard and nasty version of ring of fire. Precision and an active save game are likely to be needed.
720KB
1,269
KKND 2 Getting Back and Getting Even
Map 06: The Survivors base in this area has been overrun and captured by the Evolved.
0.9MB
1,514
KKND 2 Kill 'em Good
A fresh new custom mission from BennyBarrageCraft
527KB
1,530
KKND 2 Mountain Assault
Scramble the mountain passes in KKNDMaster's custom mission for KKND 2: Krossfire
165KB
1,562
KKND 2 Official Multiplayer Map 01
A very large and empty desert level, very loosely based on Multi-2. Sometimes all you want is the final Frontier.
332KB
2,583
KKND 2 Official Multiplayer Map 02
A very large and open green level. Based on the most defensive level in the game (Multi-7), but without the defences.
463KB
2,324
KKND 2 Official Multiplayer Map 03
Based on Glenn's favourite team level (Multi-6), try playing 4 a side
517KB
2,350
KKND 2 Official Multiplayer Map 04
Based on a closed and cluttered city map (multi-10), this is a much more open level. All starting positions have more oil and accessibility.
830KB
2,474
KKND 2 Over The River
Map 02: It is a fairly simple mission: save base, rebuild and smite the bad guys.
469KB
1,686
KKND 2 Pacman
Map 08: It is not perfect, but it is fun for about ten minutes though. Nail the guy on the extreme left last.
94KB
1,221
KKND 2 Perfect General
Map 13: This level is designed to be too hard
456KB
1,785
KKND 2 Renegade Robots
Map 04: Some high tech robots have got scrambled and gone rogue.
523KB
1,637
KKND 2 Ring of Fire
Map 05: This is an assault on a heavily fortified robotic research facility.
727KB
1,271
KKND 2 The Gemini XII
Map 01: While making the original 51 missions the UFO just didn't fit in, it was way too powerful.
236KB
1,889
KKND 2 The Nest
Map 10: The Series 9 has found a wild queen scorpion and intend to kill her. The evolved have raced a brood of scorpions to the area.
563KB
1,414
KKND 2: Krossfire Additional Missions
All 11 single player missions from Melbourne House
6.1MB
7,872
KKND 2: Krossfire Multiplayer Maps
The 4 official multiplayer maps release by Melbourne House
2.1MB
6,157
Night of the Mutants, The
Evolved are out when it's dark. Come and get them!
89KB
1,144
Oil Hunt
Search for oil through enemy lines in this KKND2 mission
700KB
3,625
Oil Race
BennyBarrageCraft offers his take on the oil race in this custom KKND 2 mission
273KB
1,201
Promised Land, The
KKNDMaster presents another custom mission with a UFO
412KB
1,771
Resource Error
Battle against the elements in another custom mission offering from KKNDMaster
283KB
1,254
Treble Trouble
Three KKND 2 armies meet with disastrous consequences
688KB
4,981
War
DragoNuno philosophical take on war with KKND 2
83KB
1,230
Water World
Command KKND 2 forces to recover your base or face a watery grave
764KB
4,962
The new Download Bay – Please send in your feedback about this new version of the Download Bay. There will be improvements made based on your comments, so please share your views.
All missions must be extracted to the custom levels folder on your computer, for example: C:\Program Files\Melbourne House\KKND Krossfire\levels\custom\. If you want to submit your own custom missions for the game, please head to Planet KKND 2 and contact the staff there.
Please contact Nahoo with your comments on all missions posted here.